A Spoonie Wedding: How I Saved Money and Energy on My Wedding
Alright, people, it finally happened!! On January 2nd, I married the love of my life. After a very short engagement, we celebrated our union with our dream wedding…well, as close to our dreams that we could get on a small budget and limited supply of spoons.
I was nervous leading up to the wedding, not because I was unsure of committing myself to him, but because I wasn't sure how I'd get through the day with my various chronic illnesses. I can barely leave the house without quickly being overwhelmed by fatigue, so how was I supposed to get through two days of activities, socializing, decorating, and more? And what about the cost? Money is tight with me not being able to work full time, so how do we make sure we have everything we want without going into debt?
Well, lucky for all of you that I am an avid researcher! I read multiple blogs on cutting wedding costs and asked for advice from fellow spoonies who've had weddings. I combed through hundreds of reviews for different products and companies, trying to find the best bang for our buck. In the end, we were able to have a beautiful wedding and romantic honeymoon on a budget of $2,500, and I was able to enjoy every minute of it!
Everyone's dream wedding is personal and unique, so you may not use the same things that we used, but I've learned a few tricks through my past wedding experiences (Maid of Honor three times, baby!) and diligent researching that I think everyone could benefit from.
1. Marry Your Best Friend
Honestly, this is good advice whether you have chronic illnesses or not. Before I started dating Matt, I thought that the whole "my husband is my best friend" thing was just something people said all the while knowing it wasn't true. Now I know that it is not only possible, but preferable as well.
He makes me laugh harder than anyone else in this world. I am never more myself than when I am with him. There's no pretense, no need to hide parts of myself away. I get to be the raw pure me and he loves me still.
I'm not writing this to brag, rather to let you know that it's possible. I didn't feel any of these things in my previous relationships and thought that this kind of love was pure fantasy.  It's not. If you don't feel comfortable enough with someone to be seen without makeup, in your old sweats that are falling apart, with Oreo crumbs littered on your shirt (or whatever your "natural" state looks like), then maybe wait a bit to get married. I find this to be especially important when you have chronic illnesses, as there are days where I can barely get out of bed, let alone bathe. Let me tell you, your relationship reaches a new level of comfort when they have to help you onto a hospital toilet or carry a cup of urine for testing.
2. Keep it Small
This is a good tip for both budget and spoonie friendly weddings. Truthfully, we almost eloped before deciding that we wanted to spend our special day with those closest to us. Our guest list ended up being only 55 people, around 30 of which were actually able to attend. It can certainly be challenging to keep a guest list that small, but for us it was absolutely necessary. It made the whole day more intimate and with a lot less pressure. I didn't worry about having to explain to my great-aunt's nephew's cousin about why I had a wheelchair but could also walk, nor did I have to spend the whole evening going around to greet hundreds of people individually.
It was small, and it was perfect for us. It was also perfect for our budget.
For every guest, you have to account for food, desserts, chairs, tables, drinks, etc. It all adds up quickly. Having fewer
guests allowed us to afford more food, even sending guests home with doggie bags. Everyone had their fair share and there was still plenty left over. We even got to all sit at one U shaped table together! And, because everyone there was someone close to us, they were all more than willing to help switch decorations, put out food, and break everything down at the end of the night.
Try keeping your wedding party small as well. For every bridesmaid, groomsman, or other attendants you have to get gifts, flower arrangements, and other accessories. You have more schedules to work around, events to plan, and rehearsing. We cut down on all of that by having one attendant for each of us, each choosing our oldest and dearest friend. All our other friends and family who would have been attendants were still at the wedding and helped out wherever they could, so they were very much an active part of our union, just without buying the dress or renting the tux.
3. Search for Bargains
My dad instilled in me the habit of comparing products and reading reviews before buying anything. This was a skill I got a lot of use out of when planning my wedding. People love to say "you get what you pay for" to implicate that things that cost less aren't always the best quality, but I've found that to not always be true. Often, the more
expensive item is marked up way more than that item is worth. A little research will go a long way!
Our wedding venue was at least half the cost of every other venue in town, and yet it was beautiful, quaint, and accommodating. For less than $150, we paid for our small wedding cake and mini cupcakes for all the guests (with lots of leftovers!). Our food cost under $400, and was super easy to order through the website ezcater.com (no, I'm not an affiliate, I just like their site!). Nearly all of our decorations were ordered off of Amazon and they were all of great quality.
Perhaps the best bargain of all was my wedding dress. Every bride knows that wedding gowns cost a small fortune,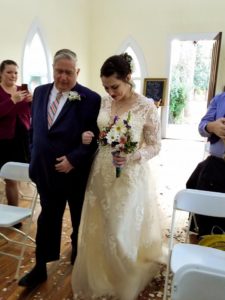 which is infuriating since you only get to wear them once. I was nervous to order my gown online, but knew that I had to as going into the shop to try on several dresses would be too much for me at the time. After reading a ridiculous number of reviews, I found my dream dress on Amazon for $125. That was with custom measurements and added sleeves. The best part? It in no way looks or feels like a cheap dress. I have received a multitude of compliments on it, and I don't think I could have loved any dress any more than this one. (You can find the dress here: Ruolai Asa Bridal Women's Vintage Cap Sleeve Lace Wedding Dress A Line Evening Gown champagne 24
)
More money doesn't always equal higher quality. A little research can end up saving you tons of money in the long run.
4. Get Creative
Weddings are a huge industry in the US. Places that are dedicated to weddings cost a ton, therefore it can pay to stray from the traditional path when it comes to your wedding. We got married on a Tuesday, which automatically cut our already less expensive venue costs in half. A creative friend of mine looked up how to make floral arrangements and ended up making all of our bouquets, boutineers, and centerpieces with a mix of flowers ordered
online and some bought at a grocery store. Matt's brother officiated the ceremony. One of his sisters, who does photography as a hobby, took all of our photos. My Matron of Honor painted our guest book. We served gourmet pizzas for a fraction of other catering costs. I did my own nails. We broke away from many of the typical wedding costs, yet still had a wonderful event that showed off our personalities.
Look for areas that you can cut out costs. We didn't give out favors to the guests because we figured the dinner, desserts, and drinks kinda count as guest favors. I doubt a little tiny bag of candy would make our guests feel more appreciated than the rest of the food served. Don't get everything monogrammed or personalized. I have been to many weddings and not once did I pay attention to whether or not their napkins had the couples' initials on them. Fancy linens, expensive serving platters, personalized everything, on and on. All of those are areas that soak up funds fast but aren't truly needed.
Getting creative helps for your chronic illnesses, as well. We put tall chairs with decorative bows at the altar so that
we could sit during the ceremony. I wore compression tights as well as an abdominal binder. There were plenty of electrolyte drinks at the site and never a shortage of places for me to sit whenever needed. The cold temperatures helped with my vasoconstriction, which meant I was less dizzy and able to do more than usual. Having our wedding on a week day allowed me to rest up for the rest of the week before our honeymoon over the weekend. Even the month of the year helped with costs and general availability as January isn't that popular of a month to get married in.
Not everyone will have someone capable of doing flowers, photography,
officiating, or whatever, but I believe everyone has someone capable of something creative. Maybe your friend dabbles in baking and can bake you a cutting cake? Or perhaps you know a seamstress who can sew you a completely original dress? Or you might have a friend with a gorgeous garden full of flowers that they are willing to share with you? Now, understand that not everyone is able or willing to give away their talent and skills for free (particularly if they are professionals in their field), but sometimes they are in a position to offer a discounted price as a wedding present to you. Get creative and think outside the box, it will save you a fortune in the end.
5. Choose Your People Wisely
Wedding preparation is incredibly hectic, even without chronic illnesses thrown in! Many brides and grooms talk about feeling frazzled all day, getting dizzy from not eating, or being too exhausted to enjoy any of it. Choosing who you surround yourself with on the day can make a huge difference. Every spoonie bride and groom needs a supportive team that are willing and able to help in any way possible.
I was incredibly lucky in this department. The day before the wedding, when decorating the chapel, I could barely string two words together because my brain was so overloaded. The most helpful people were ones who came in, got a general idea of what I wanted, and then ran with it. They made it all come together wonderfully without asking me to stand over them directing every move. My Matron of Honor brought a bag of survival items to keep me well
hydrated and salted throughout the day. My mother-in-law arrived early to finish decorating while I was getting ready. And all our wonderful guests helped change over decorations, take pictures, or anything else that was needing to be done.
I'm not being hyperbolic when I say that I couldn't have gotten through the day without my team supporting me and I don't think I would have had nearly as good of a time if I was busy worrying about impressing everyone or playing the good hostess. Keep toxic people as distant from yourself as possible. If you have someone in your life who can't go a day without bombarding you with criticism, they don't really need to be spending a lot of one on one time with you on your wedding day, if they are there at all. You need to feel safe and secure or else all your energy gets burned up just by being in fight or flight mode. I felt incredibly at ease the entire day of my wedding because I was surrounded by so much love and support. It truly made such a big difference.
6. Accept the Help that's Offered
Choosing your people wisely doesn't work if you don't actually accept the help your people offer. Many of us, myself included, are reluctant to ask for help because we don't want to feel like burdens. But, we aren't burdens. The people who love you want to help you, and it's ok to accept help. It doesn't make you weak or needy, it just makes you human. If you try to do it all on your own, you will likely end up overextending yourself before the ceremony has even begun. So, unless you can afford to pay for people to take care of everything, you will need help and shouldn't be afraid to ask for it.
I've always struggled with accepting help because I felt like I should be able to do it all on my own. Truthfully, I
might have been able to do it on my own, but if I had, I know I wouldn't have had the energy to walk down the aisle, or enjoy our first dance. And those who helped me knew that, as well. They were all excited being able to help us get married, and it made everything just a little more special because so much love went into all of it. Accept help. Be gracious, of course, but accept the help. It will make all the difference.
Remember, at the end of the day the thing that should matter more than anything else is that you and your loved one are married. Weddings are beautiful and fun, but they are nice additions to a marriage, not the main ingredient. Don't put so much pressure on yourself, or the day, to be perfect in every way. Don't think about what others think or if they are judging you. I assure you, we got plenty of funny looks for getting married on a Tuesday, serving pizza, and doing our own flowers, but none of that mattered. Matt said it best, when talking about a few critical glances we received, "I'm not marrying them, I'm marrying you. So I don't care what they think of our wedding, as long as we're happy with it." Focus the majority of your energy on your health and your partner, the rest is just icing on the very expensive cake.
Leave a comment below with any helpful wedding tips you've picked up or to share your own wedding stories. I'd love to hear from you!
© 2018 spooniewarrior.com