Why The OA is the Best Show You've Never Heard Of
*I am not paid to give the following opinion. I have no affiliation with Netflix. If you know how I could get paid to watch and review stuff on Netflix, please let me know because that sounds like an awesome job.
I watch a lot of TV. A lot. A good portion of my time is spent at home, either in bed or on the couch, and the brain fog often makes it difficult for me to concentrate long enough to actually read a whole book, so I watch TV. Most of the TV I watch is via Netflix. I am always looking for something new to watch that will grab my interest, and I found that in the Netflix original the OA.
The OA came out December 2016. I lapped it up in one weekend. That is not an unusual consumption speed for my TV viewing, however, it was different with the OA. I often leave the TV on in the background while I play games on my phone, check my social media accounts, or work on my various writing projects, but I found that impossible to do with this show. I was pulled away from all the other distractions around me. I couldn't pry my focus away from the enchanting tale that was unraveling on my screen.
One of the reasons why I think the OA has been widely overlooked is because it's incredibly difficult to describe the show without giving away any of the mystery. That's part of the magic of this show, the entirety of it is shrouded in mystery. From the beginning where the audience discovers that Prairie, a young woman who had been blind since childhood, has returned home after missing for seven years, except she is different from when she left. Prairie now can see.
The show explores multiple layers of this story. Part of it seems to be a pretty clear cut crime drama, focusing on Prairie's life before she went missing and how her family has been affected by her return. Part of the story focuses on a small group of townspeople (including The Office's Phyllis Smith) who meet with Prairie regularly as she tells them the story of what happened to her while she was gone with the promise of a larger mission for them at the story's end. Every part of Prairie's story seems to change each member of her local audience and we get the joy of watching them grow into themselves and connect with each other as her story affects them more and more. And part of the story is the mind-bending story of Prairie's disappearance that blends crime drama and fantasy into a magnificent mystery that leaves you questioning everything.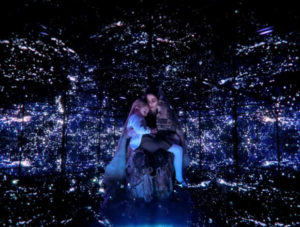 I don't use the term mesmerizing very often, but it's hard to accurately describe this show without using that word. No, the entire show does not look like this one image, but the moments of the show with these stimulating images are brief snapshots of visual poetry. It's beautiful, entrancing, and hypnotizing. The show looks into big questions about life such as the truth of reality and what happens after we die.  It switches from reality to fantasy seamlessly, throwing us into an unknown world and then reeling us back in over and over again.
The cast of this show is wonderful. It is full of new names and faces, with a few familiar ones scattered throughout. Brit Marling plays the starring role of Prairie, but also created and produces the show. Jason Isaacs (the Harry Potter series) is as wonderful as ever as he portrays 'Hap,' a scientist on a quest to understand the un-understandable. Emory Cohen (War Machine) is the lovable Homer who seems to represent the 'everyman.' I have been extremely impressed with the marvelous storytelling abilities we have seen from several Netflix Originals, and the OA is no different. It grabs you, pulls you in, and refuses to let you go.
If you are a fan of shows that answer every question and wrap things up in a tight little bow, then this is not the show for you. However, if you enjoy shows that push your boundaries and leave you with ten new questions for every answer you receive, then you need to watch this show as soon as possible. I think fans of the early seasons of Lost would definitely love this show and it's mysterious style.
In short, do yourself a favor and watch this show! Then tell everyone you know all about it so that more people can enjoy the splendor that is the OA. (Plus, I'd really like for the show to get a second season and we need more viewers for that to happen, so get on it!)
Have you seen this show? If so, I'd love to hear what you think. Leave me a comment with your thoughts. Have a show or movie you'd like to see me review? Just give me the name and I'm on it!
© 2017 spooniewarrior.com